Dance
Our Dance Department thrives on creativity, born from a culture of challenge, ownership and inspiration. We share with our students a passion for dance in all its forms, and provide them with opportunities to explore and develop their curiosity in classes both on our timetable and in extracurricular sessions. Cross curricular links are established through critical thinking, problem-solving, team work and continual development.
Our curriculum offers a creative pathway, allowing the students to take risks in a safe environment through a strong sense of community, mutual support and respect. Students at the Brentwood Ursuline Convent High School, regardless of ability or background, can experience the craft and composition of dance and feel empowered when learning to sequence their actions in a sophisticated manner to communicate a story. Through fostering an appreciation of movement, a lifelong connection with positive body awareness and fitness is created which is pivotal in maintaining both a healthy body and a healthy mind.
Dance parallels all aspects of life. It can help the students to express and develop an understanding of personal and social skills through its emotive power, nurturing empathy, enhancing communication through critical analysis and articulating personal interpretations and feelings. All of these factors prepare our students for their future.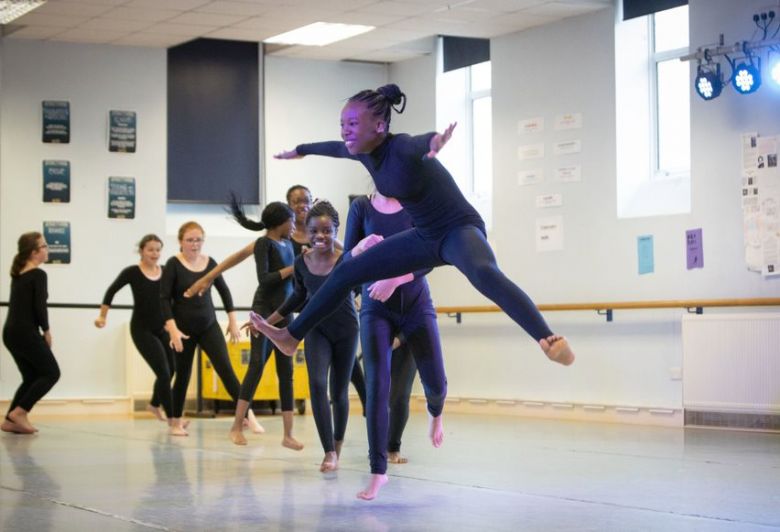 Curriculum Summary
Key Stage 3
Programme of Study
Dance at BUCHS will offer the opportunity for students to enjoy, be creative, and express themselves in a practical sense whilst embedding essential values such as team work and mutual respect.
We run a diverse and exciting programme of study within the Dance Department and students will develop skills not only through performance but in life skills such as problem solving, healthy active lifestyles, resilience and confidence building.
Over the two years, the students will study the following:
Matthew Bourne's Nutcracker!
Musical Theatre
Prop Dances
Parkour
Creating choreography
Bollywood and Kathak dances
Learning/Teaching Approach
Students will begin by learning the basic skills of performance, choreography and appreciation so that they can be transferred and developed into a range of performance styles. Students are always encouraged to create a positive and supportive learning environment for each other by offering peer support and sharing their skills.
Students will be taught the subject terminology, key skills and concepts to enable them the opportunity of successfully studying Dance at GCSE.
Throughout KS3, students will have opportunities to explore and develop the following skills in Dance:
Physical skills
Technical skills
Expressive skills
Mental skills
Performance
Choreography
Communication
Independence
Problem solving
Self-management
Self-belief
Critical analysis
Assessment
Students will be assessed in a range of skills:
Assessment will be by live performance work, homework tasks and evaluation of their own and others' skills. Students will be offered a variety of performance opportunities allowing them the experience to challenge themselves and demonstrate their development of skill and knowledge.
Key Stage 4
Qualification: GCSE
Awarding Body and Paper: AQA 8236
Programme of Study
The aims of the course are to develop the individual's knowledge, understanding and skills of Dance, through performance, composition and appreciation of their own and other people's work, including that of professionals.
More teaching hours will be allocated to practical lessons than theory lessons in a fortnight.
Learning/Teaching Approach
Students will develop their Dance skills both in and outside the studio environment with a holistic approach to learning the practical and theoretical course content. As an integral part of the course, students will enjoy Dance by continuing to perform to live audiences throughout the year through in-house events and attending theatre performances for regular inspiration.
Students are expected to attend at least one extra-curricular Dance club to help develop their performance skills further.
Assessment
The assessment process is divided into two components:
Component one: Performance and Choreography
Component two: Dance Appreciation.
Students must complete both assessment components.
Component one:
Performance

30% of GCSE
40 marks (15 marks for set phrases and 25 marks for duet/trio performance)

Choreography
Total component = 60%
Component two:
Dance Appreciation
Students will be marked on knowledge and understanding of choreographic processes and performing skills, critical appreciation of own and professional works.
40% of GCSE
Written examination: 1 hour 30 minutes (80 marks)
What it can lead to
Dance is a growing area of the Arts and Media. This course will give you the essential skills to lead others with confidence.
Studying disciplines of Dance allows students the opportunity to explore and employ skills of problem solving and creativity, whilst increasing levels of fitness and self-esteem.
A GCSE in Dance can easily progress into the Level 3 BTEC National Diploma in Performing Arts.
Possible (but not limited to) employment opportunities with this qualification:
Professional performance (e.g. theatre, backing dancer, cruise ship, holiday entertainment)
Teaching
Creative therapy
Physiotherapy
Theatre based employment
Costume/fashion design
Fitness instructor
Additional Points
This course will appeal to students with a genuine interest in Dance. Students who currently take Dance as an option enjoy being in a vibrant, energetic and creative subject where they gain real independence in their work. They also take pleasure in experimenting with new choreographic ideas, performing and training in a range of styles and techniques.
External activities
West End and local theatre performances, Essex projects, workshops with industry professionals and the opportunity to attend creative workshops and performances in New York.
Tier of Entry
Single Tier.